PHP Tricks
Short tutorials on how to add useful enhancements to your website with some PHP code, and snippets of code I found interesting.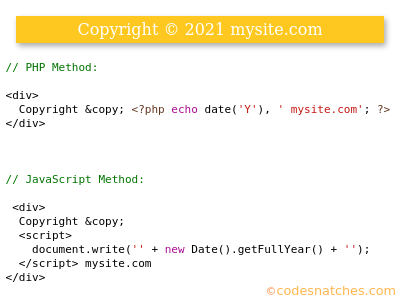 Automatically incrementing YEAR in the copyright notice - © 2023
A one liner that you can append to the code of your website's footer to avoid the need of manually updating the year every year (
includes JavaScript alternative solution for static html pages
).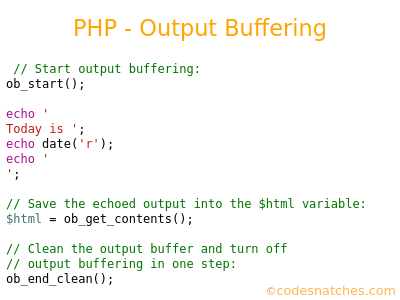 Assigning results of the PHP echo statement(s) to a value of a variable
Once in a while you might realize that you wish your code snippet which uses many
echo
statements had saved the output into a variable, instead of displaying it; it's when
output buffering
comes to rescue.
Elegantly Using Switch in Place of a Long

IF

Conditional Expression
When you have a need to check for multiple possible values in a single variable, often the switch conditional is a preferred alternative to a long
if ((...) || (...) || (...) ...)
conditional expression.
Validating User Input With the

filter_var()

Function
The article demonstrates how to validate email, URL, integer, and decimal number and includes a snippet of code that would be used in a production script.
An Automated Way to Add HTML Title and Meta Tags to Help SEO for a Database Driven Website
In this tutorial I show how to filter the existing page related content to generate and fill the following html tags:
<title>...</title>
<meta name="description" content="...">

Using a Recursive Function to Traverse a Directory Tree
In this tutorial I'll show you how to use a function that calls itself to scan a directory tree and output its contents.
Making the code from the book Beginning PHP and MySQL E-Commerce From Novice to Professional run in 2021
In this, step by step guidance, you'll see how a few adjustments to the original code that goes with the venerable book by Cristian Darie and Emilian Balanescu, published in 2008 will bring the shop to life with a much newer version of PHP and MySQL.
Saving Some Time by Autoloading PHP Classes Upon Demand
Here I'll show you how to utilize the spl_autoload_register() function from the Standard PHP Library (SPL) that helps to avoid manually including files that contain object oriented class definitions.
This page was last updated on March 02, 2021